Purchase Lucidus at Creative Market →
Lucidus is a minimalist photography theme that transforms your site into a visually-stimulating canvas of cleanly layered (parallax) images and content.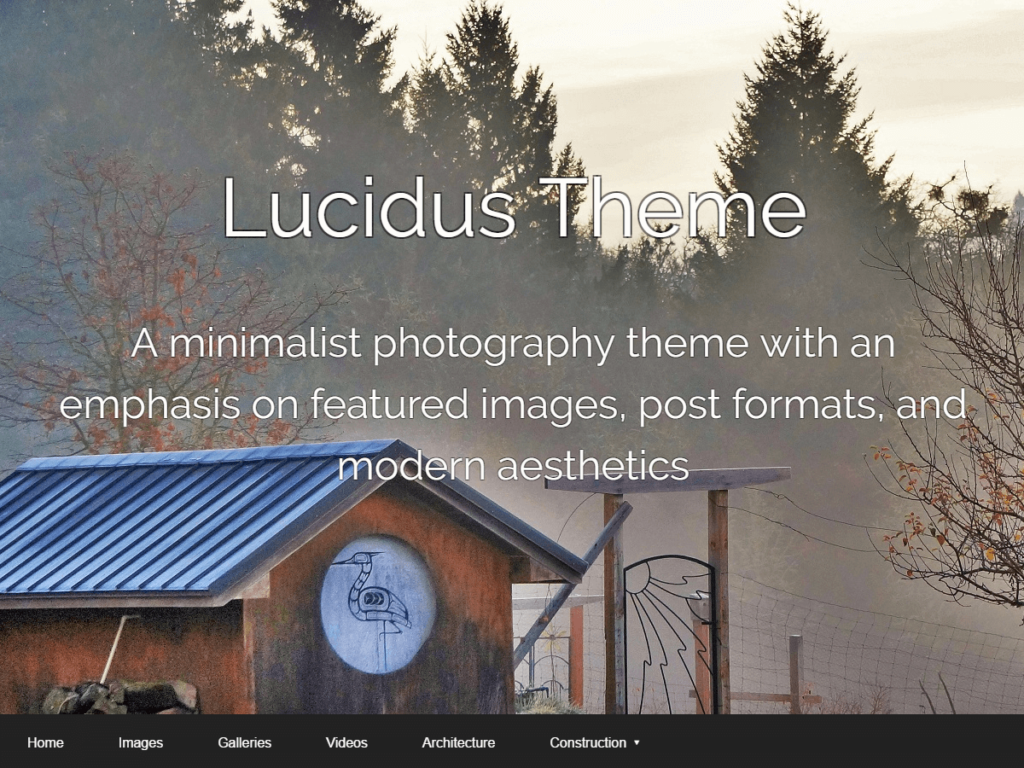 Meticulously designed with simplicity in mind, Lucidus displays your content with no distractions. Lucidus features opinionated post format designs, so that all types of content capture your viewers' attention in unique ways. The home page includes an optional header video or image, which is displayed in a large featured section with your site title and tagline. Upload a custom video, link one from YouTube, upload your own image, or use one of the five beautiful default header images packaged with Lucidus.
Lucidus also integrates with Jetpack, offering numerous additional features including infinite scroll and extra widgets. Lucidus is optimized for any size of screen, ensuring that visitors experience your content similarly on their device.
Lucidus emphasizes images and other content through a simple and unique design, providing a site experience that your visitors are sure to enjoy.
Theme Options/Features
The following options are available for Lucidus with live preview in the Customizer:
Custom header video or image.
Accent color picker.
Custom copyright name field.
Show or hide "Proudly powered by WordPress".
Show or hide theme information display.
One menu location, which supports submenus several levels deep.
One widget area, in the footer, which displays in one, two, or three columns depending on the screen width.
Default featured image option for posts that don't have images.
Additional features of Lucidus:
Fluid full-width design.
Large featured images with layered parallax effect.
Ability to view full-sized versions of featured images.
Certain text content is displayed in multiple columns to improve readability on larger devices.
Fully responsive design that looks great on any device.
Post formats: aside, image, gallery, video, audio, quote. Each post format features a unique layout on blog and archive pages.
Custom styling for galleries, audio and video players, and playlists.
Clean code built on _s and written by a WordPress core contributor.
Screenshots